The RESA International Convention will be held at the Treasure Island Hotel in Las Vegas. We've secured a special room rate for convention attendees.  For information on the hotel and to secure your reservation, contact the Treasure Island hotel and use "Real Estate Staging Association" as the reservation code. If you get a lower room rate and don't use the RESA offer, please let us know so we get credit for your room.  Email Shell@RESA-HQ.org.
Rates Are Limited Please book Today!

Hotel Reservations
Treasure Island
3300 S. Las Vegas Blvd.
Las Vegas, NV 89109
MAKING RESERVATIONS
A dedicated website is now available to book your hotel room online.
Booking Website:
https://resweb.passkey.com/go/RESA16
Telephone:
Room Reservations: 800-944-7444 and the group code to reference is RESA16
General Information: 702-894-7111 
A credit card is required to make a reservation, and a refundable deposit equal to the first night's room rate & applicable tax will be charged at the time of booking. Individuals may cancel their own reservations by contacting the hotel by phone at least 72 hours in advance of their arrival date.
Cut-off date: December 28, 2015
 
OPTIONAL RESORT FEES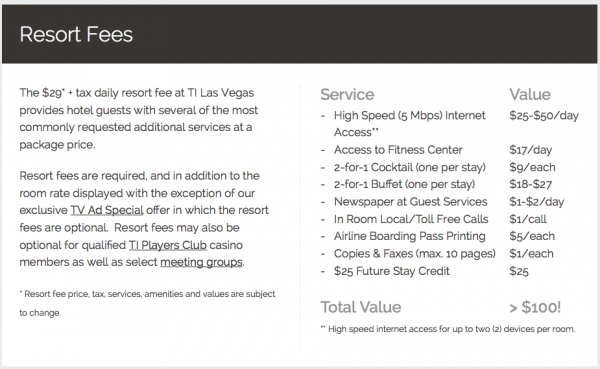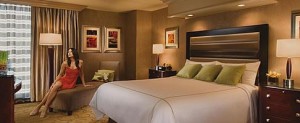 DELUXE ROOMS:
These rooms offer floor-to-ceiling windows with various views of Sirens Cove, or sunset over the Spring Mountain range. Each room features one King or two Queen Elite SensaTIonal™ beds, marble bathroom, handcrafted furniture, in-room safe, and high speed Internet access (fees apply). Click to view all rooms.
Experience Treasure Island Fine Dining During Your Free Time
Phil's Italian Steak House
5:00 p.m. to 10:00 p.m. Daily
Cuisine: Steak and seafood
Average check: $50 per person
Dress code: semi–formal
Seafood Shack
5:00 p.m. to 10:00 p.m. Daily
Cuisine: Seafood, Fresh Fish, Pasta
Average Check: $35 per person
Dress code: Casual to Semi-Formal
Open area bar overlooks Casino
Gilley's BBQ
11:00 a.m. – 10:00 p.m. Daily
Cuisine: Bar-B-Que, American, Burgers, Steaks, Ribs
Average Check: $12 – $30 per person
Dress code: Casual (Western wear encouraged!)
Señor Frog's Las Vegas
Cuisine: Mexican, Burgers, Fajitas, Salads, Sandwiches
Average Check: $12 – $30 per person
Dress code: Casual (Beach wear encouraged!)
Kahunaville
7:00 a.m. to 10:00 p.m. Sun – Thu
7:00 a.m. to 11:00 p.m. Fri – Sat
Cuisine: American, Tropical, Hawaiian
Average check: $20 per person
Dress code: Casual
Pizzeria Francesco's
11:00 a.m. to Midnight, Daily
Cuisine: Pizza, Calzones
Average check: $10 per person
Dress code: Casual
Little Richie's Chicago Style Beef & Dogs
11:00 a.m. to 12:00 a.m. Daily
Cuisine: Chicago-style hot dogs, Italian beef sandwiches
Average check: $10 per person
Dress Code: Casual
The Buffet
7:00 a.m. to 10:00 p.m. Daily
Brunch on Saturday & Sunday only
Cuisine: American, BBQ, Italian, Chinese
Average check: $14 – $26 per person
Dress code: Casual
The Coffee Shop
Open 24 Hours Daily
Cuisine: Breakfast, Lunch & Dinner
Average check: $12 per person
Dress code: Casual
Pho – Vietnamese
11:00 a.m. to 11:30 p.m. Sun – Thu
11:00 a.m. to 2:30 a.m. Fri & Sat
Cuisine: Vietnamese, Asian
Average check: $12 per person
Dress code: Casual
Room Service Amenities
Fresh Fruit and Chocolate Covered Strawberries
Wine & Cheese Platters
Romance Packages
Floral Arrangements
TI Desserts
Tiramisu Ice Cream Sandwich
Hot Apple Biscuit Bread Pudding
Doughnuts, Pastries, Cookies
Carrot Cake
Bars and Lounges
Kahunaville Party Bar
Breeze Bar
Gilley's Saloon